Sunland Wins 2019 Platinum STEP Award from the Associated Builders & Contractors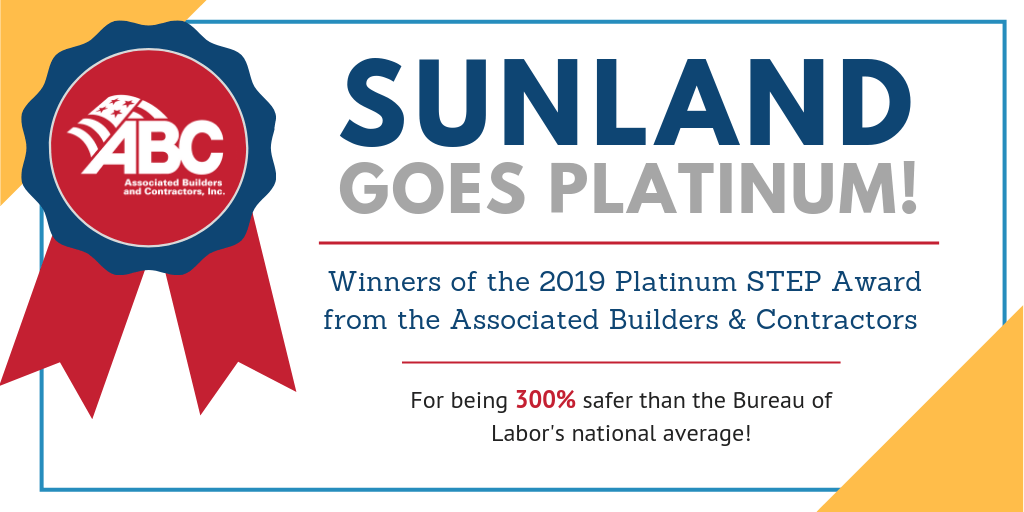 Sunland Fire Protection was recently awarded with the 2019 Platinum STEP Award. This award goes to a company that has taken safety measures to the NEXT LEVEL and are statistically 300x safer than the Bureau of Labor's national average.
This award is presented by the Associated Builders and Contractors (ABC) and their STEP program. The STEP program has become a standard in the industry for which workplace safety is measured. 24 separate safety components are measured through questionnaires and evaluations. The goal of the STEP award is to reduce the number of jobsite incidents to zero.
"STEP is a great tool for measuring our safety performance against the best of the best" says David Chapin, ABC Chairman. "We use it to make sure we are keeping up with the most current safety techniques. Nearly every advancement we have made in the area of safety has been because of our participation in the STEP process."
Safety at Sunland isn't just something to promote, it's baked into the company culture. Sunland promotes a "Safety & Risk Management First Culture" that works on changing our daily routines so that we make ourselves safer on a subconscious level.
For more information on STEPS please visit www.abcstep.org.
For more information on Sunland Fire Protection, please visit www.sunlandfire.com.